Discover, Gather and Connect
Free, Fun Family History Discovery Day
Spanish Fork Family History Center
Class for all levels.  Click here to see full schedule.
Saturday, Feb. 9 , 2019, 9 am to 1 pm
1138 West 100 South
Spanish Fork Utah
featuring Todd Hansen, from "The Story Trek"
Todd Hanson has completed 12 seasons of "The Story Trek" as host, writer and executive producer. Todd and the show have won 13 Emmy Awards in the Rocky Mountain region. Todd is passionate about the worth of every individual and shows it through their stories.
Primary activities for children 3-11.
Click here to see full schedule.
Free pizza served at noon while supplies last
For more information, call the SF FHC 801 798-5535
——————————————————————————————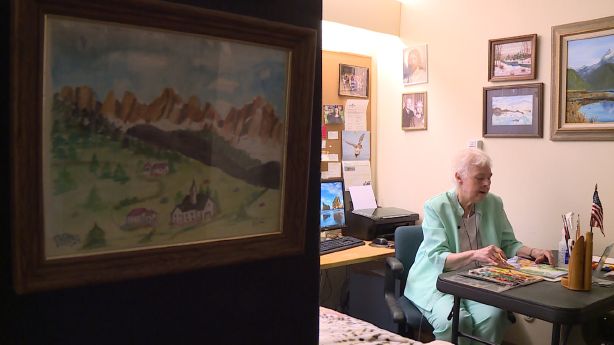 Ray Boone, KSL TV
Retired teacher pays 'life's rent' with painted cards for soldiers
Grey Matters: Dance for Parkinson's-Utah
Mondays, 10:15-11:15 am
Skaggs Wellness Center
530 Wakara Way, SLC
(Free for Members)
Thursdays, 2:15-3:30 pm
10th East Senior Center
237 S 1000 East, Salt Lake City
(Pre screening required)
Saturdays, 12:30-1:30 pm
Rose Wagner Performing Arts Center
138 West Broadway (300 South), Salt Lake City
$5.00 with purchase of 10 classes punch card.
---
Creative Aging Writing Workshop
Led by Debbie Leaman
Debbie Leaman has re-imagined her life more than once. As an east coast transplant, she also left a 20+-year career in the investment world to tap into her creative self and become a freelance writer. Her writing, including personal essays, has appeared in numerous local, national and international magazines and on various websites. She was a finalist in both the 2016 Utah Society of Professional Journalists contest and the 2011 Writers@Work Memoir competition. As a writing coach, Debbie listens deeply and helps others express their thoughts, experiences and feelings into words. She's taught various writing courses at Art Access including "Writing Through Grief." Read more at www.debbieleaman.com.

Downloand flier: CreativeAging-Writing
TWO WORKSHOP SESSIONS
SESSION I:
Tuesdays, Feb. 7 – 28, 9:30 AM – 12:30 PM
Midvale Senior Center, 7550 Main Street,
Midvale, UT Midvale Senior Center, 7550 Main Street, Midvale, UT
SESSION II:
Saturdays, March 4 – 25, 10 AM – 1 PM
Art Access, 230 South 500 West, #110
Salt Lake City, UT
AGE: 60+ COST: $30 CAPACITY: 20 To inquire about fee reductions or accessibility accommodations, please contact elise@accessart.org.
Download PDF Creative Aging Writing Workshops
Utah's rapidly growing older adult population highlights the need to design and deliver high-quality, participatory arts programs conducted by professional teaching artists. 
Creative aging programs can include music, dance, theater, visual arts, sculpting, jewelry making, writing, and other artistic pursuits. 
Join us for this free workshop for teaching artists led by creative aging pioneers Susan Perlstein & Stuart Kandell­
Learn about the relationship among the arts community, cultural development, cultural change, elder friendly communities, and quality of life for older adults. 

Energize your work through resources and initiatives that focus on why and how older adults benefit from participating in professional conducted community arts programs.

Design programs with purpose that benefit older adults by increasing social engagement and mastery.
FREE registration at CreativeAging.Eventbrite.com.
Tuesday, May 10, 9 am – 4 pm
Hale Centre Theatre
3333 South Decker Lake Drive
West Valley City, Utah 84119
Discounted lodging is available at Crystal Inn, located close to Hale Center Theatre, for only $86 when you ask for the "EngAGE Creativity for Life" rate for May 9. Call (801) 736-2000 and press zero to speak to the front desk for reservations. Rate subject to availability.

EngAGE Utah is a statewide network of artists, teachers, health care providers, and leaders that fosters the participation of older adults in wellness, lifelong learning, and creativity.  Our vision is for society to embrace aging by empowering creativity in older men and women.
You are receiving this e-mail because you have expressed interest arts education in Utah. If you wish to opt out of this mailing list, please respond to this e-mail with "REMOVE" in the subject line.
Download flier
---
ARE YOU PROVIDING SUPPORT TO A FAMILY MEMBER AGE 65+?
DO YOU….
ASSIST WITH PERSONAL CARE?

PROVIDE TRANSPORTATION?

SHOP AND COOK

COMPLETE OTHER HOUSEHOLD CHORES?

COORDINATE OUTSIDE HELP?
WE WANT TO LEARN FROM YOU.
WHY:  

P

ARTICIPATE IN A RESEARCH STUDY TO DOCUMENT THE EFFECT OF AN ARTS BASED ACTIVITY ON WELL

–

BEING

.

WHAT:  

G

ROUP DISCUSSIONS AND INTERVIEWS ABOUT YOUR EXPERIENCE WILL BE USED TO MAKE A SCRIPT FOR A PLAY

.

COMPENSATION: 

Y

OU WILL BE COMPENSATED UP TO

$125

FOR STUDY ACTIVITIES AND INVITED TO VIEW A PROFESSIONAL PERFORMANCE OF THE PLAY

.
PLEASE CONTACT:
Jackie Eaton, PhD
College of Nursing
University of Utah
801-362-5303
jacqueline.eaton@nurs.utah.edu
A partnership between the University of Utah College of Nursing and the Utah Caregiver Support Program.
Click here to download a PDF flier.
---
Utah Images 2015
UTAH IMAGES SENIOR ART SHOW & EXHIBIT
AN EQUITABLE COMMEMORATIVE ANNIVERSARY TRADITION
Utah Images 2015 WILL BE featured in the Fri. Dec. 4 SLC Gallery Stroll. The exhibit will be listed under the Salt Lake City & County Building.
2015 marks the seventh Utah Images, a juried, commemorative, Utah art exhibit presented by Equitable Life & Casualty to celebrate its 80th anniversary. The Utah Images tradition began in 1985 when the Company celebrated its 50th anniversary. Since then, Equitable has presented Utah Images exhibits every five years to celebrate each five-year milestone in business.  MORE
Salt Lake City leaders launch efforts to make Salt Lake more 'age friendly'
10/24/15 SALT LAKE CITY — Standing at a portable podium on the pickleball court at 5th Avenue and C Street, Mayor Ralph Becker and other civic leaders announced Friday that Salt Lake City has committed to making the city more "age friendly."  more

---
Mountain West Arts Conference: Getting Better with Age
Utah Arts and Museums annual Mountain West Arts Conference will be held Thursday, May 1, 2014, at Cultural Celebration Center. The opening session, Changing Tides: Lifelong Learning in the Arts, will presented by Ken Crossley and will feature Jayne Luke and Ron Fredericks in Elaine Jarvik's award-winning 10-minute play, "Dead Right."
Utah Cultural Celebration Center
1355 West 3100 South
West Valley City, Utah 84119
Conference Schedule Registration
Right Time for Writing: Memoir Writing for Seniors
A 45-minute free Power Point presentation designed specifically to help seniors understand how to write their own memoir. Taught by Bob Canaan, a published copy and screen writer who has published three memoirs. Bring your own pen and paper.
The Right Time to Write PDF flyer
Article from Salt Lake Tribune
Funding for Arts and Healthcare
Grantmaking in Health
Wednesday, March 19, 2014
Council Chambers first floor of the North Building in N1100
SL County 2100 South Complex, Salt Lake City, UT
This webinar is produced by the National Center on Creative Aging and is presented as a community service by EngAGE Utah.
Faith Mitchell, Ph.D., President & CEO
Robert Eckardt, Dr.P.H., Executive Vice President
Colin Pekruhn, M.P.P., Program Associate
Grantmakers in Health
The Cleveland Foundation
 
Join Faith Mitchell, Colin Pekruhn, and Robert Eckardt as they reflect upon the vital role that arts can play in the healthcare world and discuss how to break down the silos between health foundations and arts-based organizations to serve older populations. This session will focus upon the difference in language between health and arts and how to articulate a successful proposal across sectors.
Grantmakers In Health conducted both onsite and online educational opportunities, including a National Strategy Session with health foundation executives, webinars, and conference presentations. For more information on the Grantmakers In Health's work in this area, we encourage you to read Innovative Crossroads: The Intersection of Creativity, Health, and Aging white paper. Grantmaker In Health member, The Cleveland Foundation, grants $80 million per year in arts and culture, education, health, and human services, among many more areas.
Expert on creative aging visits Utah
Read the front-page article from the Deseret News,
January 16, 2014
National Center for Creative Aging Launches Online Artist Training in Arts and Aging
The "NCCA Online Artist Training in Arts and Aging" NCCA Online Artist Training in Arts and Aging, funded by the National Endowment for the Arts, The Michelson Foundation, and MetLife Foundation, is a free online course for teaching artists interested in learning how to lead lifelong learning programs in the arts that engage older people as creators. This self-guided training offers an introduction to philosophy, key concepts, methods, and current research from the field of arts in aging. It introduces readers to the life story-based methods developed by Susan Perlstein and Elders Share the Arts, as well as several other approaches and techniques, offering an array of exercises and case studies that exemplify the work that is happening in the field today.
The training covers topics such as the aging process, the creative potential of older adults, and how to identify community partners in aging, arts, and health-related services. It also provides information on how to adapt instructional techniques for different populations of older adults, from those who live independently to those who are in long term care and those with Alzheimer's disease and related neurocognitive disorders. Lastly, it provides guidance on how to plan, implement, and evaluate arts programming for older populations. This training is free and designed for each person to complete it at their own pace. We anticipate it will take 12-15 hours to complete.Visit the training now.
For more resources pertaining to teaching artist training please email kfitzgerald@creativeaging.org
Evaluation of Arts 4 Dementia's London Arts Challenge: Arts interventions to re-energize and inspire people in the early stages of dementia and their caregivers.
Reawakening the Mind brings together research undertaken as part of A4D's landmark pilot, London Arts Challenge (LAC) which was awarded the London 2012's Inspire mark.
Evidence gained from 17 weekly projects, covering a range of art forms (including music, photography, drama, painting, poetry and dance) was used to assess the impact of each arts activity on cognitive function and wellbeing for both the person with dementia and their carer. Participation also allowed them to access creative skills, and take part in purposeful social activity.
Reawakening the Mind represents an invaluable learning stream for arts organizations. The evaluation supports A4D's belief that challenging creative activities, led by expert trainers in top-quality venues can inspire people with dementia, and help them extend their active lives in their communities. Download PDF report here.
Webinar on Arts and Aging
NEA Interagency Task Force hosts webinar about research on the arts and aging
Webinar announces a summary paper on the Arts & Aging Research Workshop and features discussions on the latest investigations and programs on arts interventions for older adults
You are invited to a live, public webinar, Wednesday, February 20, 2013, 2:00 – 3:00 pm, EST
As the U.S. population ages, it faces more age-related diseases.  How can the arts serve to treat, prevent, or improve these conditions?  Representatives from the National Institutes of Health , the U.S. Department of Health and Human Services, and the University of California will discuss current investigations on the arts and aging, including new resources for researchers and arts practitioners.  The NEA also debuts a new publication on arts and aging research based on a convening at the National Academy of Sciences last fall.
The latest public webinar is hosted by the NEA Interagency Task Force on the Arts and Human Development, an alliance of 14 federal agencies and departments that encourage more and better research on how the arts help people reach their full potential at all stages of life.
The NEA and the Interagency Task Force periodically host public webinars to share compelling research, practices, and/or funding opportunities for research in the arts and human development.  Task Force members include representatives from the U.S. Department of Health and Human Services, the National Institutes of Health, the National Science Foundation, the U.S. Department of Education, and other agencies and departments. More information on the Task Force can be found at http://www.nea.gov/research/convenings.html
Guests and speakers:
Sunil Iyengar, Director of Research & Analysis, NEA, will moderate the webinar
Marie Bernard, Deputy Director, National Institute on Aging, National Institutes of Health
Lisbeth Nielsen, Program Director, Division of Behavioral and Social Research, National Institute on Aging
Marla Bush, International Coordinator, Administration for Community Living, U.S. Department of Health and Human Services
Julene Johnson, Institute for Health and Aging, University of California, San Francisco
Creative aging expert to visit Utah
Susan Perlstein, founder of the National Center for Creative Aging and Elders Share the Arts, will present a free lecture on creative aging, Monday, April 22, 2013, at noon, in the Edward and Yukio Okazaki Community Room-155B in the Wilford W. and Dorothy P. Goodwill Humanitarian Building at the University of Utah. Perlstein's lecture is sponsored by the University of Utah's Goodwill Initiative on Aging College of Social Work and EngAGE Utah.
On Tuesday, April 23, 9 am to noon, at Utah Valey University, Perlstein will present a half-day workshop for teaching artists, health care providers, and the public interested in creativity in older adults. The workshop is sponsored by Utah Valley University's School of the Arts and EngAGE Utah.
This project is supported in part by the Utah Arts & Museums, with funding from the the State of Utah and the National Endowment for the Arts.
More information on Perlstein's visit and workshop details will be posted here as it become available. If you would like more information, please e-mail: info@engageutah.org.